THREE COURSE LUNCH PRE-FIX $36
Choice of Appetizer, Salad, Soup and Pasta
(Three course pre-fix not available for parties over ten)
Fegatini al Balsamico
Chicken livers sautéed w/mushrooms, onions in a balsamic
vinegar mixed greens.
Calamari Fritti
Classic fried calamari served with house made organic tomato marinara sauce.
Zuppa di Cozze
Prince Edward Island mussels in a spicy marinara broth.
Vongole Oreganate
Little neck clams with seasoned bread crumbs.
Carciofi alla Moscato
Crispy artichokes in a mild spicy tomato sauce.
Burrata
Burrata mozzarella, sliced tomatoes and basil. GF
Polipo alla Griglia
Grilled octopus, served with Kalamata olives fingerling potatoes
oven roasted tomato and brushed in a garlic lemon salmoriglio.
Involtini di Melenzane
Eggplant rolled and filled w/ricotta, spinach & onions in a pink
sauce, with melted Fontina cheese.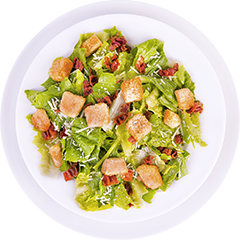 Insalata Della Casa
Mixed greens with diced tomatoes, walnuts, baked goat cheese
served with olive oil and red vinegar.
Insalata di Arancia
Radicchio, endive, blood oranges, pomegranate, crumbled goat cheese
in a ginger-honey vinaigrette.
Insalata di Barbabietole
Diced golden yellow and red beets, french beans, leeks, sesame seeds
feta cheese in a sherry wine dressing.
Insalata di Carciofi
Fresh sliced artichokes, baby arugula, white mushrooms and shaved
Parmigiano in a lemon dressing.
Insalata Frutti di Mare
Mix seafood salad of the day.
Insalata di Cesare
Classic version of caesar salad served with crispy Parmigiano
anchovies and croutons.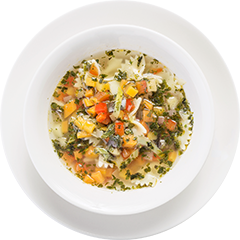 Tortellini In Brodo
This is the iconic homemade tortellini stuffed pasta with grated DOP Parmigiano Reggiano cheese and capon broth.
Pasta e Fagioli
Chicken broth, mixed vegetables, homemade pasta, Parmigiano Reggiano cheese, ground beef, seasoning.
Butternut Squash
Yellow onion, garlic, fresh herbs, ginger, extra virgin olive oil and vegetables broth.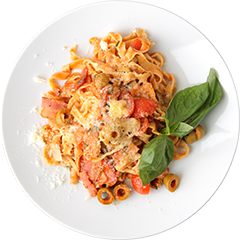 Orecchiette Baresi
Orecchiette pasta sweet Italian sausages, garlic, broccoli rabe
olive oil, grated Pecorino Romano.
Tonnarelli Cacio e Pepe
Tonnarelli pasta, pecorino romano cheese, crushed black pepper.
Pappardelle Bolognese
Homemade pappardelle in a meat ragú.
Tortelli Alla Parmigiana
Homemade tortelli filled with ricotta cheese, spinach
Parmigiano Reggiano cheese.
Tagliatelle Al Pesto
Basil, Parmigiano Reggiano cheese, garlic, pecorino romano
pine nuts extra virgin olive oil.
Penne All'Arrabbiata
Penne pasta, spicy tomato sauce with crushed peperoncino
calabrese, Parmigiano Reggiano cheese.
Risotto Al Barolo
Risotto canaroli, Barolo wine, Parmigiano Reggiano cheese
Barolo wine reduction.
Spaghetti Con Polpette
Spaghetti w/homemade meatballs in a tomato sauce.
Linguine Alle Vongole
Linguine with New Zealand cockles in a white clam sauce.
Tagliolini Neri ai Frutti di Mare
Homemade squid ink tagliolini, mixed seafood
spicy marinara sauce.
Spaghetti Alla Puttanesca
Tomatoes, olives, capers, garlic, tuna.
Bucatini All'Amatriciana
Hollow spaghetti, guanciale, tomato, Tropea onions
pecorino, black pepper.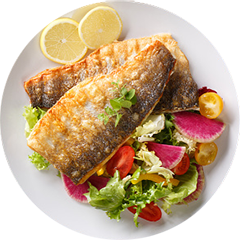 Pollo Alla Cacciatora
Yellow onions, carrots, celery, garlic, red wine, rosemary
tomato sauce, pine nuts, bell peppers stew.
Pollo Scarpariello
Chunks of chicken on the bone sautéed with white wine garlic
and sausage, served with broccoli.
Vitello Martini
Veal scallopine with crispy Parmigiano crust, white wine and
lemon sauce over French beans.
Scaloppine Ai Funghi
Veal scaloppini with mushrooms, black pepper, garlic, extra
virgin olive oil, thyme and chopped rosemary.
Saltimbocca Alla Romana
Chicken scaloppini sliced, Prosciutto di Parma, sage leaves
white wine sauce, toasted black pepper.
Salmone ai Frutti di Cremona
Broiled salmon with Italian mustard fruit over sauteed spinach.
Zuppa di Pesce
Traditional Italian seafood stew w/clams, mussels, shrimp
calamari and branzino in a shrimp bisque.
Branzino Alle Mandorle
Mediterranean seabass encrusted with almonds in a lemon
sauce, served with sautéed French beans.
Tagliata di Filetto al Balsamico
Grilled and sliced beef fillet, balsamic vinegar reduction, fresh
arugula, organic cherry tomatoes and Parmigiano Reggiano cheese.
Vitello Alla Milanese
Milanese style veal, cherry tomato, arugula
fresh mozzarella cheese.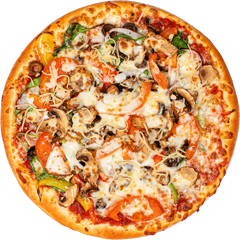 Margherita
San Marzano tomato sauce, fresh mozzarella, fresh basil.
Cipolla
San Marzano tomato sauce, fresh mozzarella,
Tropea red onions.
Prosciutto di Parma
San Marzano tomato sauce, arugula, prosciutto di Parma.
Piccante
Spicy tomato sauce, fresh mozzarella Italian sausage.
Quattro Formaggi
Fresh mozzarella, gorgonzola, fontina, Parmigiano Reggiano.
Capriccio
San Marzano tomato sauce, fresh mozzarella, Parma ham
Ligurian olives.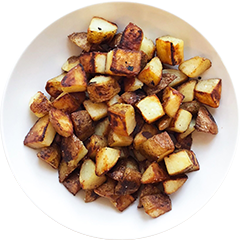 Cavoletti Di Bruxelles
Baked Brussels sprouts with crispy bacon.
Patate Fritte Al Tartufo
Fried potato chips served with truffle oil and grated
Parmigiano Reggiano cheese.
Patate Arrosto
Hand cut tuscan fries, fresh herbs, olive oil.
Spinaci Aglio e Olio
Sautéed spinach in a garlic and oil sauce.
Shishito Peppers
Flash fried Shishido peppers.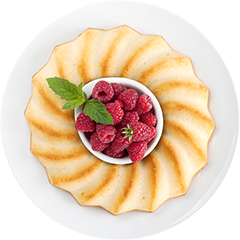 Tiramisú
Layers of lady fingers w/Mascarpone and zabaglione custard
Espresso, coffee liquor topped with cocoa.
Torta di Ricotta Tradizionale
Vanilla custard topped with caramelized brown sugar.
Tartufo Alla Gianduia
Homemade vanilla and chocolate gelato, crushed almond, Maraschino
cherry, chocolate coating.
Spolverato di Cioccolata
Chocolate sponge, homemade chocolate mousse, coffee sauce.
Biscotti Della Nonna
Homemade Tuscan almond cookies, served with Vin Santo.
Gelati Del Giorno
Homemade butter-less ice cream or non fat sorbet.
Affogato al Caffè
Shot of espresso with scoop of vanilla gelato, splash of Amaretto
di Saronno liquor.