MARIANI'S VIRTUAL GOURMET NEWSLETTER
Columnist for Esquire and Bloomberg News
Westchester's Greatest Leaders and Bosses: Mario Fava, owner of Chat 19 American Grill, Chat American Grill, Lusardi's and Moscato
Westchester County teems with Italian restaurants, far too many with a cookie-cut menu of popular items done without much distinction from one another. Two that do soar beyond the rest are also among the best looking, and both reside in the County's most affluent bedroom community of Scarsdale.
MOSCATO
874 Scarsdale Avenue
914-723-5700
moscatorestaurant.com
Restaurateur Mario Fava has had a longstanding reputation in Westchester, first for Lusardi's in Larchmont, and, since 2001, for Moscato's in Scarsdale. He has never been one skimp on service or generosity, and his prices have remained reasonable for a high quality of cuisine.
The atmosphere inside Moscato is warm both in color and décor as ingreeting, and on any given night the majority of guests are likely to bearea locals; weekends are always jammed. In good weather you canhappily dine al fresco on the patio, even if the view of Scarsdale Avenueisn't quite the Via Veneto.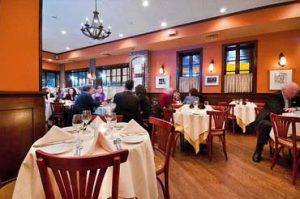 There are all sorts of ways to go at Moscato, since each foodcategory offers a wide choice; so you might gorge on antipasti, which includes a very good pizza of the day, or order a half portion of pastas and a main course. My wife and I took the recommendations of the management and dined across the board, beginning with a generous appetizer portion of grilled sausage over arugula, endive, mushrooms, and sliced parmigiano drizzled with truffle oil. Crespelle alla fiorentina–not found often enough elsewhere–are rolled eggplant crêpes with a rich ricotta filling, spinach, and a light tomato sauce with melted fontina.
Among the pastas–a choice of 14 each night–are an array of shapes and styles, from agnolotti alla Moscato, filled with Parmigiano in a chunky tomato sauce with peas and mint–a good rendering of a Roman classic. Trofie al pesto is a fine example of lusty Ligurian cookery, and Emilia-Romagna is just as well represented by the excellent bolognese ragù mixed with wide pappardelle.
For our main courses we enjoyed a fat veal chop with the added pleasure of figs. in a hearty barolo and cognac sauce, served with green beans, and a mixed grill of dorade, scallops, and Arctic char over a bed of lightly sautéed spinach and a touch of sweet limoncello to give it depth. The wine list at Moscato should fulfill anyone's pleasure, and the prices are reasonable. It is easy enough to enjoy Moscato for the food alone, but you will most probably be won over as a regular by the sense of hospitality here that makes you feel like one the moment you arrive.
Moscato is open daily for lunch and dinner.
Antipasti $13 – 15, pastas (full portions) $17-$21, main courses $22-$28.